Introduction
Mosaic is one of the oldest decorative arts, using small tiles or small ceramic tiles to create patterns. In modern times, mosaic is more of one kind of tile, it is a special and relative large tile, generally composed of dozens of small pieces of tiles. With its mini size and rich colors, It is widely used for both indoor and outdoor walls and floors decoration.  
Mosaic tile is material for decorating bathroom walls and floors. It was first used in the early 80s. Today, mosaic tiles are making a comeback, regaining their popularity as a decorative material with their colorful forms. That's why they are highly favored by avant-garde and fashionable families. 
That's where the business opportunities come from. Mosaic tiles can satisfy the need of all families from high end to low end. No matter what results you expect from Mosaic tile, they would not disappoint you. It's has become increasingly popular nowadays. If you are willing to steps into the relevant business, this article can help you have a further understanding of the mosaic tile industry. 
Introduction
Advantages of Mosaic tile for sale
Application of Mosaic tile for sale
Global market of mosaic tile for sale
Seven reliable mosaic tiles supplier
The future of Mosaic tile for sale

Conclusion

Advantages of Mosaic tile for sale

1.Decoration

Mosaic tile uses the form of the puzzle to strengthen its decorative function. 
This kind of material provides various colors to the customers
 In the decoration of interior space, they can cooperate with other decorative materials. 
People can also use the mosaic tile to build a mosaic background wall or ground in a large area. 
2. Strong wear resistance
the main raw materials of Mosaic are natural stone. 
From the perspective of wear resistance, ceramic mosaic tiles are far better than other materials. 
Mosaic tile has more gaps between each small particle than other materials, making them have strong stress resistance. 
See more Meima mosaic products
3. Customization

Many people like to combine different colors, different specifications, and different shapes of mosaics to reflect their unique taste. From the surface to the corner of the house decoration, Mosaic can satisfy your need for customization.

Application of Mosaic tile for sale

As we mentioned above, Mosaic tiles are widely used in the decoration of the building, including cells, walls, and ground of hotels and houses, Showing the luxury of the building. Due to the excellent performance in color and an exquisite single element, they can be spelled out in a very different style of pattern to achieve a good visual effect, therefore, ceramic mosaic is also suitable for fountains, swimming pools, bars, ballrooms, stadiums, and parks decoration. 
At the same time, due to the excellent anti-slip properties, they are also commonly used in family bathrooms, baths, balconies, restaurants, living room floor decoration. 
Global market of mosaic tile for sale

Currently, unaccountable companies are working in the ceramic mosaic tile industry. Most of them are located in China or Europe. The main market players are SCG, Mohawk, Lamosa, RAK Ceramics, Rovese, Kajaria, Concorde, Interceramic, Pamesa, Casalgrande Padana, etc.
 The production of ceramic mosaic tiles increased from 95 M Square meters in 2012 to 128 M Square meters in 2016, with an average growth rate of 7.67%. 
Global ceramic mosaic tile capacity utilization rate stays at around 80%. The global ceramic mosaic tile industry reaches a sales value of approximately 1500 M Square meters in 2016. On the consumer markets, China took the market share of 28.13% in 2016, followed by Europe with 25.63%. We tend to believe this industry will become more and more mature, and the consumption-increasing rate will show a smooth curve.
The worldwide market for Ceramic Mosaic Tile is valued at 1912.7 million USD. In 2020, it is expected to reach 3297.5 million USD by the end of 2026, growing at a CAGR of 8.0% during 2021-2026.

Seven reliable mosaic tiles supplier
Meima Mosaic
Meima Mosaic is the mosaic factory of Foshan Well New Material Co.
In 2008, we started to produce glass mosaic products, and then gradually expanded our product range,
formed a glass mosaic, stone mosaic, metal mosaic-based professional mosaic manufacturing plant with a full range of products.
Whether it is material, shape, size, color, treatment process, or packaging, our factory can be customized according to the specific requirements of customers.
Our current production capacity is 40,000 square meters per month, and our customers are mainly building materials importers and building materials supermarkets in the United States and Europe.

Nobel Mosaic
Hangzhou Nobel Group Co., Ltd. is a foreign-owned enterprise, established in Hangzhou in 1992. With a humanized product style Nobel mosaic has been one of China's leading brands of high-end tiles. 
Nobel Mosaic attaches great importance to the perfect quality, One of the significant indexes is the quality of the glaze. The method Chinese take for the test is that Putting the product under 159℃ temperature and 0.5MPa pressure cycle. If there is no cracking, the products are allowed to be on the market.
 The brand takes the higher stander for the test, putting the products under 180℃ temperature, 1.0MPa pressure cycle seven times. if there is a failure, the products will be disposed of as scrap. In this way, Nobel Mosaic has earned the trust of all its customers. 
 One of their creative products is the reproduction of patterned products based on glass-ceramics, which is the first of its kind in China. 
CMA is a high-end brand of mosaic tile in China, headquartered in Foshan, a famous city named as pottery capital in China. As a high-tech enterprise, CMA has integrated design, production, and sales.
With independent ceramic production bases in Zhaoqing, He Shan, and Foshan. CMA has an area of 480000 square feet for the factory. 
 as a high-end production line of CMA, "Shima" stays committed to the products with aesthetics sense and high quality. As a top ceramic powerhouse in China, Shima has introduced the style of archaize brick from Europe and the United States and has combined them with the Chinese style.
CMA takes it as our mission to create a good leisure life and enhance your taste in life, and create intimate ceramic products for our global customers with all our hearts. CMA is currently divided into 3 main sub-brands, including CMA Ceramics, CMA Mosaic, and CMA Interior Engineering. 
CMA Ceramics focuses on the production of low-carbon and energy-saving ceramic tiles, including the 4MM thickness ceramic sheet and its art tile series.
CMA Mosaic's main products are glass mosaic, crystal mosaic, and cultural stone. 
CMA Interior Engineering provides unlimited design inspiration and a wide range of products for major householders, architects, and designers.
Founded in 1993, Shanghai Comics Tile specializes in the production and sale of premium glass stone and premium glazed tile series. 
The brand's glass stone, a high-temperature firing porcelain tile, is also one of the hardest and most wear-resistant tiles. After polishing, the surface of the glass tile is as bright and smooth as a mirror, while the water absorption rate, straightness of the edge, bending strength, acid, and alkali resistance are better than the general natural stone, and the pattern will never wear off during use.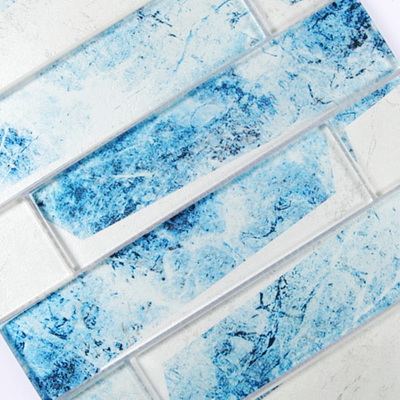 Bisazza today offers a wide range of luxury décor and furnishings suitable for any living and outdoor area - the expression of a unique style that brings a contemporary flair to the classic by combining elements of fashion and design.
Guangdong Jia Mei Ceramics Co., Ltd. is a modern large-scale private ceramic enterprise, which integrates research, development, production, and sales. 
The main productions of the brand include porcelain matte tiles, porcelain polished tiles, porcelain tiles, and products accessories. 
The brand products have many advantages such as low water absorption, high hardness, good wear resistance, uniform color, high grade, good quality, wide variety, and good price, etc. 
The sales network covers all major cities in China, and the products are exported to Europe, North America, Southeast Asia, West Asia, and other regions.

JNJ mosaic
JNJ mosaic is a mosaic brand under the Weiqi Enterprise for the international high-end market, since its establishment in 2001, it always focuses on product development and management system construction.
 With all their efforts, JNJ mosaic won a high reputation for its ultimate quality, fine craftsmanship, personalized service, and matching space application solutions. 
They not only have hundreds of designated service providers in major cities across the country but also export their products and services to Europe, America, and the Middle East, holding a fixed share of the global building materials market.

The future of Mosaic tile for sale


We can expect that the number of homeowners and homebuyers will increase in the future, which will boost the demand for household mosaic tiles in the global market.
the booming renovation work in residential construction also will fuel the demand for mosaic tiles in the future. 
From the perspective of the region, Asia Pacific will be a significant region to the global mosaic tile market.
The global household mosaic tiles market can be divided into North America, North America, Europe, Asia Pacific, Latin America, and Middle East & Africa
The Asia Pacific and Europe are highly attractive markets for mosaic tile business owners, due to the booming economy of developing economies. Also, the urbanization and infrastructure development in these regions is other factors that make a great contribution to the adoption of household mosaic tiles.

Conclusion

In this article, we have shared some content about mosaic tiles for sale, including 
Advantages of Mosaic tile 
Application of Mosaic tile 
The global market of mosaic tile
Also, we introduce 7 reliable mosaic tile suppliers you can choose for the tile mosaic. 
At last, we have shared our forecast about the future of the mosaic tile industry. 
Through reading this article, you may get the information you need about mosaic tile for sale and have a further understanding of it. 
If you still have other questions, please feel free to contact us, we will reply as soon as possible. Thanks for your reading!