Where can I buy mosaic tiles?
Introduction
In the past, mosaic tiles were usually seen in bathrooms and kitchens. But recently, they have been showing up in more places all around properties.
Mosaic tiles are made from a wide variety of materials including glass, stone, metal, or ceramic that are installed into the grout to form a beautiful design through their various shapes, color, and even printing pattern. Many builders and renovators work on new homes and renovations like mosaic tiles because of the durability that they offer.
They also look good in both contemporary designs as well as traditional ones. Mosaic tiles, if handled properly, can last for a long time without needing to be replaced.
With various choices in the market, people have faced the challenge that how to find one kind of mosaic tile which is suitable for their own condition. When they make their decision, another problem: where to buy mosaic tiles, where can I buy mosaic tiles will come to their mind.  Mosaic tiles buy online or buy them offline.
We understand that it's not that easy to figure out all of these problems if you are not a pro in the industry. Don't worry, we will help you through this blog. The content we provide in the blog can make a great contribution to your decision-making!
The blog will conclude with the following topic:
The application of various mosaic tiles
Mosaic tiles buy online?
Where to buy mosaic tiles /where can I buy mosaic tiles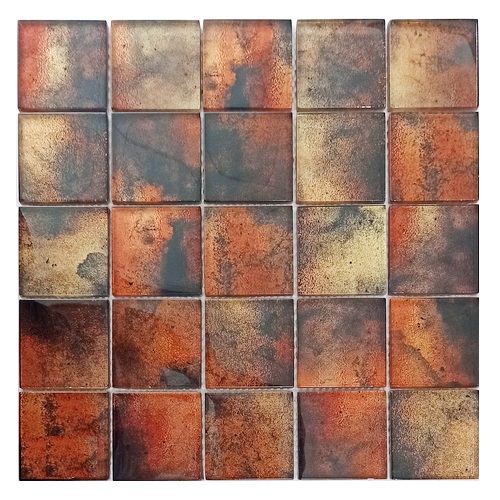 The application of various mosaic tiles
Marble mosaic tiles
The most expensive type of tile commonly used in mosaics is a marble. It's not that marble mosaic tiles are expensive but marble, in general, is a luxury material.
The beauty of these tiles is that they can be used to create stunning effects in your home.
Marble, due to its porous nature, also makes a good surface for mosaic work as the grout doesn't show too clearly when it's stained with a dark or colored sealer.
The downside of this is if it's not sealed there is a chance that over time the stone can become stained.
The shine on marble mosaic tiles really comes through when they are wet though so it's best to seal them with something that has at least some gloss in it. The downside of this is that you will see less of the surface detail than on tiles without a sealer.
Marble mosaic tiles are usually available in sheets but not in much larger sizes than around 60cm by 30 cm.
The thickness of these tiles can vary from quite thin to very thick, sometimes nearly an inch - the thicker the tile the better it will resist breakage over time.
The edges of these tiles are perfectly square and very straight. The surface of the tile is perfectly flat; these tiles are normally polished to a high sheen.
The consistency of marble used in the manufacturing process helps create this even surface with no marks or wobbles.


The color is totally consistent throughout the sheet too which is why marble mosaic tiles are so good for subliminal patterns and subtle effects. The cost of these tiles is high but they can be used to great effect and this may offset the cost for some people.
Marble mosaic tiles don't come cheap but if you want that designer look then you need to pay for it. The price will depend on your location, the thickness of the tile, and whether or not it has a polished finish.
The thicker and shinier the tile is, the more expensive it will be. The cost can also go up if you need a large sheet of this tile so get a quote from your reliable supplier before you place an order.
Glass mosaic tiles are very popular for both indoor and outdoor use. These tiles have been around for centuries but have undergone some major changes in the last fifty years.
The overwhelming majority of these tiles are made in China but there are also manufacturers in Italy, Spain, Germany, and the United States.
The color palette is good with hundreds of different options available covering all the colors you will need to decorate your home. Of course, they can be more expensive than regular tiles and you can expect to pay more for a sheet that contains many different colors and effects such as glitters and iridescent shades.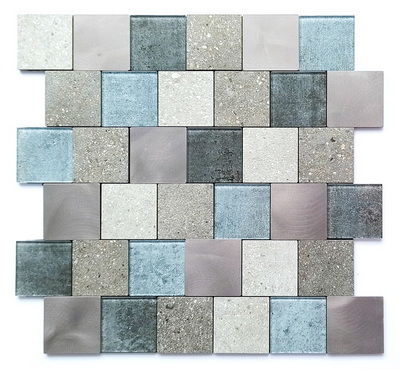 These tiles are available in various thicknesses from 1mm all the way up to 7mm which is very thick indeed, especially if you need to install these tiles on the walls of your bathroom or kitchen. The same thicknesses are available for their outdoor use too.
The surface of these tiles is smooth but not glossy which means that you can use them whatever the weather. The edges where they join together are normally perfectly square and very straight. The color palette of glass mosaic tiles is excellent, with hundreds of colors to choose from all with a high degree of transparency.
The colors will change depending on the light but they do have a tendency to absorb water so they can be difficult to clean if they are installed in a bathroom or kitchen. The cost is high and these tiles need a good amount of sealant to stop them from absorbing water which increases the price even more. The cost of these tiles will depend on the size and the thickness of your sheet.
The larger sheets obviously cost more than smaller ones and the thicker they are, the more expensive they will be to buy.
The good news is that because glass mosaic tiles have been around for such a long time, there are plenty in stock and ready to ship. The bad news is that many suppliers may not be able to supply the exact size you need in one sheet. The larger sheets are usually supplied with 2 or 3 different designs so that they can be cut down to the correct size when installation is complete.
Stone mosaic tiles
Stone mosaic tiles have been around for thousands of years and their durability is what makes them such a popular choice in both homes and commercial properties.
The colors are limited but they do tend to reflect the natural world so you get earth tones rather than bright colors.
The cost is higher than plastic or glass because the material used to make them is more expensive. The thickness varies so if you are looking for a heavy-duty application this could be a good choice.
The cost will depend on the size of your sheet but stone mosaic tiles are generally more expensive than other types..
The edges where they join are normally finished off in a way that makes them very precise which means they are suitable for wall installations.
The tiles will also need to be sealed when they are installed so that is something else you will have to factor in if you want your installation to last for years rather than weeks.
The thickness of these tiles means they are suitable for wall installations so this is a good choice for your bathroom or kitchen. The cost will depend on the size of your sheet but stone mosaic tiles are generally more expensive than other types.
The good news is that there are plenty in stock with most suppliers so delays caused by manufacturing issues are rare.


The bad news is that your supplier may not be able to supply you with exactly what you need because they tend to come in standard sizes, usually 63cm x 33cm.
The edges where they join are normally finished off in a way that makes them very precise which means they are suitable for wall installations.
The tiles will also need to be sealed when they are installed so that is something else you will have to factor in if you want your installation to last for years rather than weeks.
The first thing you need to know when thinking about ways to buy mosaic tiles is that there are some ways you can go with: online platform and an offline store. Of course, we do not need to say that nowadays we have a chance to shop over the internet anytime we want it. Although offline stores still remain a relevant option for shopping, online platforms like Alibaba, Amazon…… offer a huge variety of mosaics at really good prices. So if you have a chance to start your shopping on the internet, you should go for it.
What is the price of mosaic tiles?
The main advantage of the online platform when it comes to ways to buy mosaic tiles is good prices. Of course, we do not mean that offline suppliers are selling them really expensive, but different online platforms have different offers and some of them can't be beaten by offline store prices. So if you want to get the best deal, here you will find pretty good mosaics for low prices.
In case you don't want to rely only on online platforms, there are also many ways to visit offline stores. Here you will visit a wide range of brands and styles in one place. Obviously, their primary goal is to sell their products, so they have your favorite colors. Also, you can see the tile directly and touch it with your own hands. Of course, if this opportunity is not enough for you there are ways to order them online, but for this purpose choosing the right offline store is crucial also.
If you want to choose ways of shopping mosaics tiles in the most convenient way for you there are several ways that might be interesting for you: online or offline shopping, visiting some stores or shops personally, having a look at what different companies offer.
3. Where to buy mosaic tiles /where can I buy mosaic tiles 
Kingham Smart Home Co., Ltd. is located in Foshan City, Guangdong Province -the capital of ceramics-, China's richest province because it has abundant natural resources like oil and gold as well as many other economic factors which led to its population explosion over recent decades (not just locally).
The stainless steel mosaic  tiles factory provides household products research & development for production through sales design application services based on personalized customization that combines space optimization within homes or bathrooms with distinct styles all at once; they aim not only to establish warehouses throughout Europe but also 10 local ones across South America Africa within three years so quality service can be maintained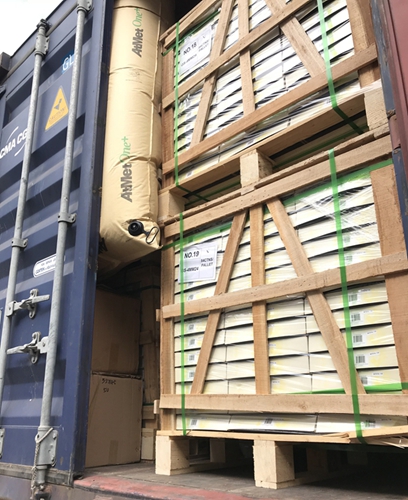 We are the stainless steel mosaic tiles factory of Foshan Well New Material Co., specializing in glass mosaics. In 2008 we started with just one product - a small quantity made from recycled bottle materials and corks bound together by hot glue which could be put up on any wall or ceiling as decoration for your home!
We gradually expanded our range, forming an ever-growing collection that includes stone-, metal-, color-mosaic pieces crafted to order using locally sourced raw materials depending on what customers need them to; all designed exclusively at this single location here close to Guangzhou City where it happens!.
You can find us today making everything imaginable through 40 thousand square meters each month including building material importers' needs
MM-Mosaic" is a brand owned by "Foshan ANT Buying Service Co., Limited", which is registered in China mainland and Hongkong.
"MM-Mosaic" focuses on supplying mosaic decor products with supper qualily, considerate service and resonable price to distributors, importers, projects and chain shops etc all over the world. We invested 1 production base and accredit the brand to 3 cooperated factories.
We have our own complete quality-control system. All exported products have been controlled and inspected in each step. Today we really hope we can set up long-term cooperation with new friends from all over the world and grow with them together. Client's praise is the best prize for us.
Fulei Stone, a granite and marble quarry sourcing company in China with experience of over 20 years. They specialize in supplying quality blocks as well as slabs to various clients according to their requirements for different projects such at homes or businesses alike!
We're the best at what we do because of our 100% customer satisfaction guarantee. From developing high-quality products and providing world-class service to fulfill your needs, whether they be big or small; personalizing each project for you - this is how we as vendors care about every single one of our customers' interests & demands!
We hold extensive background knowledge when it comes to international projects like Sochi Olympic Gym (Russia), President Hospital (Kazakhstan). Our most recent achievements include working on Viceroy Hotel Dubai's construction site since May 2014 up until the present day where more than 1 million square feet were accomplished last year alone which made its opening possible
PFM
Founded in 2006, Promising Flooring Material Limited - PFM is a company with 13 years of experience in high-end commercial and residential construction design and installation of any type of stone, tile, or marble composite. Our technical support includes professional building layout, drawing, and installation.
Our commitment to quality control, quality assurance, and customer satisfaction is the foundation of our company. Our goal is to achieve your dreams by professionally customizing your projects.
Our 900m2 aesthetic showroom in Guangzhou showcases our latest products and designs, presenting a unique and valuable experience for our customers. And the Representative Project Management Office in Doha, Qatar.
In the context of rapid development, PFM formed a joint venture with Tajik companies and in 2017 developed two quarries in Tajikistan, one for limestone and one for white marble. In terms of raw material source and cost control, we will be more conducive to the stability of supply quantity and quality of the project.
Conclusion
Mosaic tiles are a great way to add color and detail to any floor or wall space. However, not all of us have the time or money for professional tile work. Thankfully, there is an option for those looking to buy mosaic tiles online! There are many places on the internet where you can purchase your own personalized set of custom mosaics from a variety of materials at different price points. Whether you're shopping with a budget in mind or trying to find something unique, these websites will help get your creative juices flowing while giving you some ideas about what's available out there!
If you still have other questions, please feel free to contact us! Thanks for your reading!